The United States Army is the land component of the United States armed forces. It is a military organization whose primary mission is to "provide necessary forces and capabilities in support of the National Security and Defense Strategies."
It is the largest, and by some standards, the oldest established branch of the armed forces of the United States and is one of seven uniformed services. Like all armies, it has the primary responsibility for land-based military operations. The modern Army had its roots in the Continental Army which was formed on June 14, 1775, before the establishment of the United States, to meet the demands of the American Revolutionary War. Congress created the United States Army on June 14, 1784 after the end of the war to replace the disbanded Continental Army. The Army considers itself to be descended from the Continental Army, and thus dates its inception from the origins of that force.
Control and operation of the Army is administered by the Department of the Army, one of the three service departments of the Department of Defense. The civilian head is the Secretary of the Army and the highest ranking military officer in the department is the Chief of Staff, unless the Chairman of the Joint Chiefs of Staff or Vice Chairman of the Joint Chiefs of Staff are Army officers. As of August 31, 2007, the Regular Army reported a strength of 819,472 soldiers. By the end of 2006, the Army National Guard (ARNG) reported 546,288 and the United States Army Reserve (USAR) reported 289,975, putting the approximate combined component strength total at 1,655,735.
Structure
Edit
The US Army has three components, the Regular Army (officially known as the United States Army), the Reserve (officially known as the United States Army Reserve), and the Army National Guard (54 Army National Guards in total, 50 States, 3 Territories, and the District of Columbia).
The Commander in Chief of US Army is the President of the United States (currently Chris W. Marshall). The Army itself is led by a civilian Secretary of the Army (SECARMY), who reports to the Secretary of Defence. The Secretary of the Army provides civilian oversight for the Chief of Staff of the US Army, who is the US Army's senior military officer, and is a four-star General who is also a member of the Joint Chiefs of Staff.
The 1986 Goldwater-Nichols Act mandated that operational control of the services follows a chain of command from the President to the Secretary of Defense directly to the Unified Combatant Commanders, who have control of all armed forces units in their geographic or function area of responsibility. Thus, the Chief of Staff of each service only has the responsibility to organize, train and equip their respective service component. The services provide trained forces to the Combatant Commanders for use as they see fit.
The Army is currently undergoing a period of transformation, which is expected to be finished in 2009. When it is finished, there will be six geographical commands which will line up with the five geographical Unified Combatant Commands (COCOM), and USSOCOM.
United States Army Central headquartered at Fort McPherson, Georgia
United States Army North headquartered at Fort Sam Houston, Texas
United States Army South headquartered at Fort Sam Houston, Texas
United States Army Europe headquartered at Campbell Barracks, Heidelberg, Germany
United States Army Pacific headquartered at Fort Shafter, Hawaii.
United States Army Special Operations headquartered at Fort Campbell, Kentucky (USASOC)
Another goal of the transformation is to flatten the US Army's structure, in other words, to reduce the number of layers of command between the Combatant Commander and the Soldier.
The transformation is producing an information age Army.
US Army recruiting logo
Combat Maneuver Organsiations
Edit
The main combat maneuver organisation of the US Army is the Brigade, of which the US Army has 58.
Divisional insignia are currently maintained for the sake of tradition, however the Divisional headquarters no longer exists. Three brigades will wear the same Divisional insignia. The US Army have a three stage Rotational Readiness System, conisting of Training, Deployment, and Reconstitution. It has been decided that the three Brigade 'division' will be in that cycle. For example, 3 Heavy Brigades will wear the Norman Shield insignia of the 1st Cavalry Division. At any given time, one Brigade wearing this badge will be in the Training phase, one in the Deployment phase, and one in the Reconstitution phase.
The US Army has 3 types of Line Combat Brigades:
Combat Brigades

20 Combat Maneuver Brigades
30 Light Mechanised Infantry Brigades
8 Airborne/Air Assault Brigades

Combat Support Brigades

9 Theatre Air and Missile Defence Brigades
6 Long Range Strike Brigades
6 Theatre Deployment and Sustainment Brigades
6 Combat Engineering Brigades
6 Battlefield Aviation Brigades
6 Aviation Strike Reconnaissance Brigades
3 C4I Brigades
3 CBRN Response Brigades
All of these Brigades are fully integrated units combining maneuver, fire support, IISR (information, intelligence, surveillence, and reconnaissance), combat mobility (engineers), sustainment, and aviation.
Combat Maneuver make use of heavy tanks such as the M1A2 Abrams and infantry fighting vehicles to provide mobile, highly lethal, and well protected forces for conventional warfare with the most advanced nation states. They possess massive firepower. Such brigades are normally deployed to Europe to protect US allies such as Belgium, and the Netherlands.
Light Mechanised Infantry Brigades are a more general purpose Brigade. They are easily deployable, yet highly mobile, lethal, and relatively well protected. The primary means of infantry mobility is the M113A4 Armoured Personnel Carrier. Light tanks (M8 Buford) tend to be used as mobile gun platforms. It is designed to quick deployment to troublespots. It is a combination of some of the speed of an Airborne unit with the some of the protected firepower of a Combat Maneuver unit.
Airborne/Air Assault Brigades are light infantry. Some of these brigades are parachute qualified, while others rely on helicopters, and wheeled vehicles for mobility. They have few armoured vehicles. Some M8s and M113A4s provide a measure of tracked capability, but these vehicles are few in number to conserve precious air transport assets.
The Combat Support Brigades provide theatre level forces. Under the old structure, these would have been Divisional or Corp level assets.
Theatre Air and Missile Defence Brigades provide long range air defence and missile defence to an Army task force. They are armed with MIM-104 Patriot missiles, THAAD anti-missile missiles, and all necessary radars, command and communications facilities. For local self-defence, it also has a HUMRAAM battery.
Long Range Strike Brigades provide the Army with long range nuclear and conventional artillery with strike ranges of 30-1770 km. The Brigade has M107 self propelled guns, M110 self propelled howitzers, M270 MLRS launchers with MGM-140 and MGM-164 ATACMS missiles, and finally, the long range MGM-31 Pershing II nuclear ballistic missile.
Theatre Deployment and Sustainment Brigades provide logistical and service support for Army forces. They are particularly good for moving in quickly and establishing the necessities for an Army presence where it has not existed before.
Combat Engineering Brigades provide the most advanced engineering and construction services to a Joint Theatre Commander.
Battlefield Aviation Brigades provide extra transport and attack helicopters to Army combat forces, as well as providing high-end transport capabilities to the Army. These are oriented to the needs of Combat Maneuver forces.
Aviation Strike Reconnaissance Brigades are centred around attack and reconnaissance helicopters. Fixed-wing surveillance aircraft and UAVs also feature in this brigade. The Brigade has relatively few transport helicopters and few fixed-wing transport aircraft.
C4I Brigades provide capabilities in electronic warfare, psychological warfare, communications, and information warfare.
Combat Maneuver Brigade
Edit
Maneuver Battalion
Edit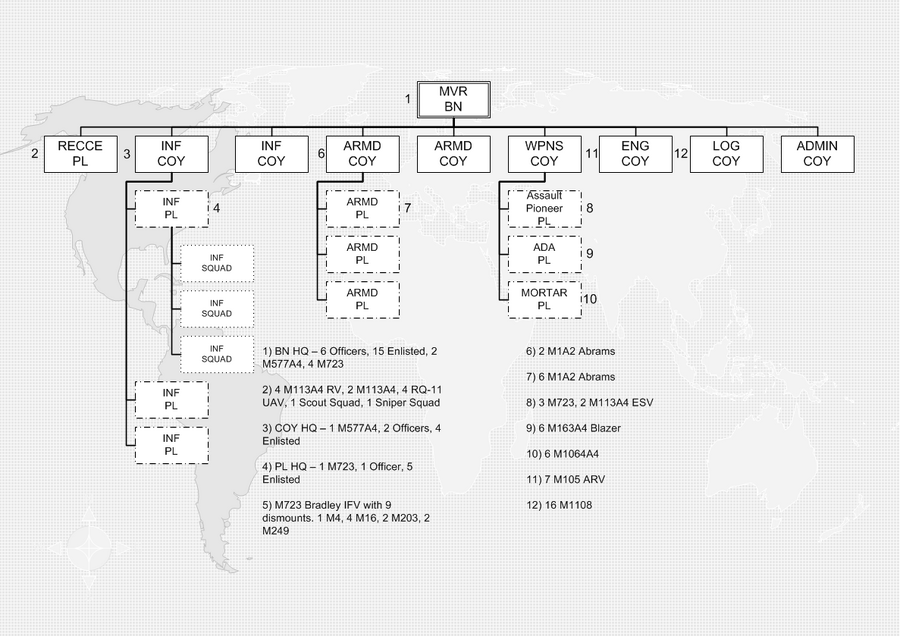 Light Mechanised Infantry Brigade
Edit
Light Mechanised Infantry Battalion
Edit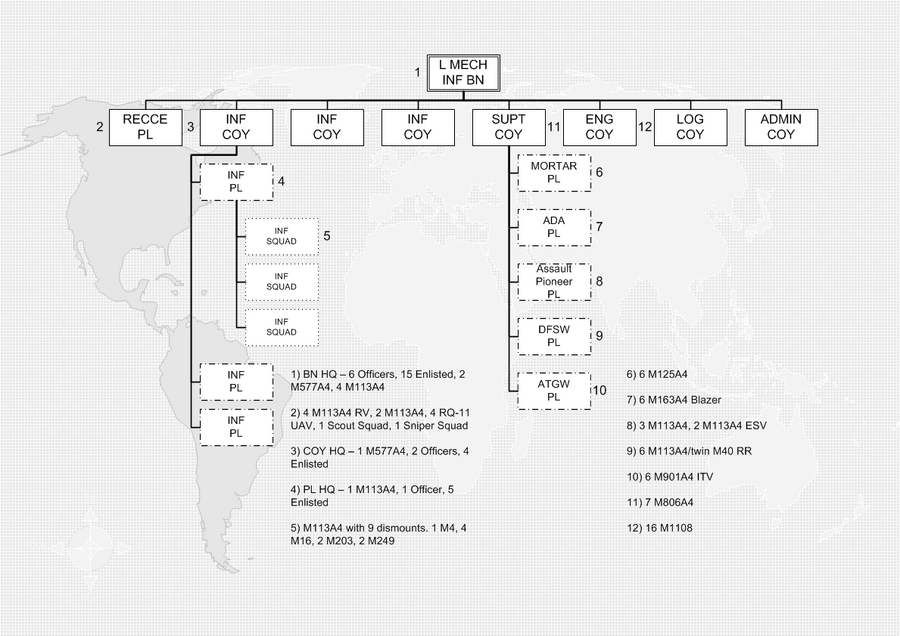 Light Armoured Battalion
Edit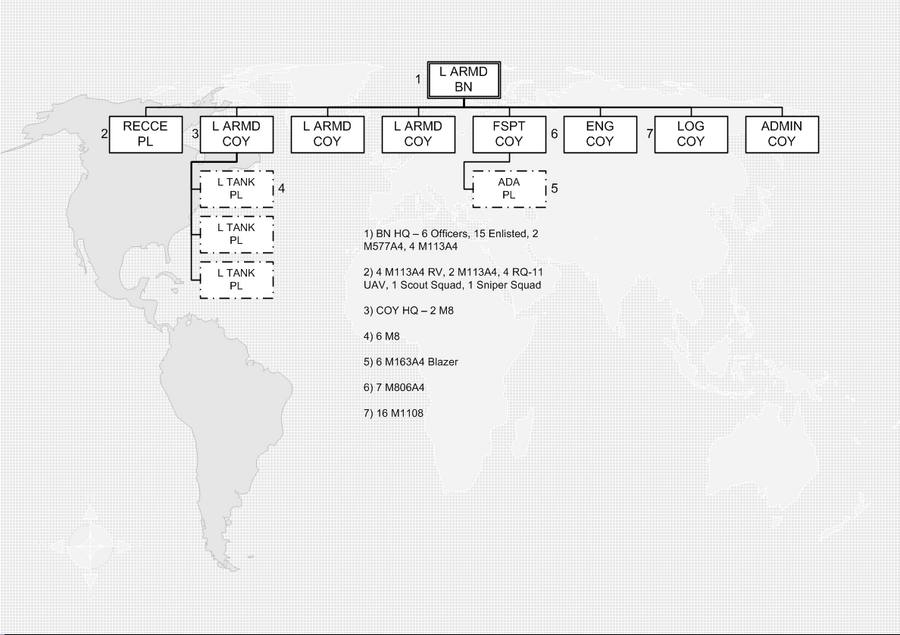 Airborne/Air Assault Brigade
Edit
Airborne/Air Assault Infantry Battalion
Edit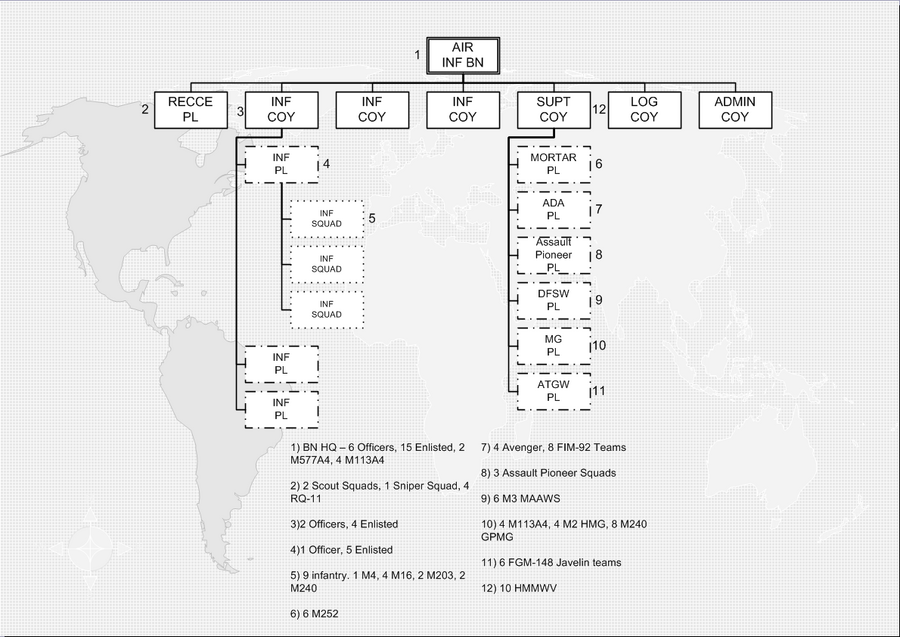 The US Army has a number of Component Commands responsible for providing training, evaluation, testing, doctrine development, and specialised services to the Army. Some of these commands are new. Particularly the Financial and Auditing Command which is now a three-star command reflecting President Marshall's drive for greater accountability, and financial transparency in the Federal Government.
United States Army Land Combat Command
United States Army Materiel and Doctrine Command
U.S. Army Test & Evaluation Command
U.S. Army Intelligence and Security Command
U.S. Army Corps of Engineers
U.S. Army Medical Command
United States Army Military District of Washington
U.S. Army Criminal Investigation Command (USACIDC)
United States Army Legal and Justice Command
U.S. Army Network Enterprise Technology Command
United States Army Financial and Auditing Command
U.S. Army Installation Management Command (IMCOM)
U.S. Army Human Resources Command (HRC)
Special Operations Forces
Edit
Special Forces exist outside this structure, and are part of United States Army Special Operations, which is in turn part of United States Special Operations Command. USASO consists of the following units:

United States Army Special Operations Command (Airborne) shoulder sleeve insignia
1st Special Forces Operational Detachment-Delta (1st SFOD-D, Delta Force)
United States Army Special Forces (Green Berets)

1st Special Forces Group
3rd Special Forces Group
5th Special Forces Group
7th Special Forces Group
10th Special Forces Group
19th Special Forces Group (National Guard)
20th Special Forces Group (National Guard)

75th Ranger Regiment (Airborne)

1st Ranger Battalion
2nd Ranger Battalion
3rd Ranger Battalion
Regimental Special Troops Battalion

160th Special Operations Aviation Regiment (Airborne)
4th Psychological Operations Group (Airborne)
95th Civil Affairs Brigade (Airborne)
528th Sustainment Brigade (Special Operations) (Airborne)
United States Army John F. Kennedy Special Warfare Center and School
Opposing Forces
Edit
The Opposing Forces units, or OPFOR are US Army units intended to simulate enemy equipment and tactics in order to train US and friendly forces. The need for these forces was realised after a series of RAND corporation studies revealed that a soldier who survived his first dozen fights had a 75% chance of surviving a tour of duty. The aim of OPFOR is to give a soldier those experiences in a non-lethal, high-stress setting as close to real combat as possible.
There are three Major Training Centers that utilize home-based OPFOR units for the US Army:
The National Training Center or NTC in New Mexico with the 11th Armored Cavalry Regiment or Blackhorse simulating a European conventional unit.
The Joint Readiness Training Center or JRTC in Texas with the the 1st Battalion, 509th Parachute Infantry Regiment or Geronomos (also known as Al OPFOR) simulating Islamofascist terrorists in an urban setting.
The Joint Multinational Readiness Center or JMRC in the United Kingdom with the 1st Battalion, 4th Infantry Regiment (Separate) or Warriors
The US Army currently maintains a flexible response doctrine. It emphasises attack as the best form of defence, and has tried to maintain a decentralised method of fighting. A key component is the need to shift fighting as quickly as possible on to the territory of the enemy.
US ground forces try to maintain a 'belt and braces' approach to attack, and defence. Even though the information age has revolutionised land warfare, the US Army maintains that physical advantage must be kept, and that high situational awareness cannot compensate for a lack of mobility, armoured protection, and firepower.
Although US ground forces are highly integrated with aerial support from Army Aviation, carrier aviation, and the Air Force, the US Army still believes it needs a large amount of organic fire support, which is to say the fact that troops can virtually directly vector support from fighter-bombers does not remove the need for conventional artillery.
The US Army has had a renewed appreciation of the need for air defence, and today US ground forces have a large amount and variety of air defence weapons. Every Line Combat Brigade deploys a battery of MIM-23 HAWK or AIM-120 SL-AMRAAM missiles, and every battalion has mobile FIM-92 Stinger missiles.
Equipment
Edit
Small Arms
Edit
M9 9mm pistol
M11 9mm pistol
M17 9mm pistol
M18 9mm compact pistol
M19 .45 ACP pistol
M20 .45 ACP compact pistol
Mk 23 Mod 0 .45 ACP pistol (Para-Ordnance P-14-45 Special Forces)
Wilson Combat CQB .45 ACP pistol (Special Forces)
M16A2/A3/A4 5.56mm rifle
Mk 16 Mod 0 5.56mm Rifle (FN SCAR-L)
Mk 17 Mod 0 7.62mm Rifle (FN SCAR-H)
M14 7.62mm rifle

M14 SMUD (Stand-off Munition Disruption rifle)

M1903 Springfield Rifle .30'06 rifle (US Army Drill Team)
M4/M4A1 Carbine 5.56mm carbine
Mk 18 Mod 0 CQBR 5.56mm carbine (Special Forces)
Colt Model 723/725/727 5.56mm carbine (Special Forces)
Submachine Guns
Edit
Colt RO635 9mm submachine gun
Machine Guns
Edit
M249 Minimi 5.56mm light machine gun
M240 7.62mm general purpose machine gun
M60 7.62mm general purpose machine gun
M2 Browning .50 BMG heavy machine gun
Sniper Rifles
Edit
M24 Sniper Weapon System 7.62mm sniper rifle
M110 SASS 7.62mm sniper rifle
M21 7.62mm sniper rifle
M25 7.62mm sniper rifle
M82 .50 BMG sniper rifle
M107 .50 BMG sniper rifle
Mossberg 500 & 590 12 gauge shotgun
KAC Masterkey 12 gauge shotgun (Special Forces)
Remington 870 12 gauge shotgun
Heavy Weapons
Edit
M203A1/A2 40mm grenade launcher
Mk 13 Mod 0 40mm grenade launcher
M32 40mm Multiple Grenade Launcher
M3 MAAWS 84mm recoilless rifle
M72 66mm rocket launcher
M136 AT4 84mm disposable rocket launcher
Mk 153 Mod 0 SMAW 83mm rocket launcher
M202A1 Flash (Flame Assault Shoulder Weapon)
FGM-172 SRAW anti tank missile
FGM-148 Javelin anti tank missile
FIM-92 Stinger surface to air missile
Armoured Vehicles
Edit
M1 Abrams

M1 Abrams (National Guard only)
M1A1 HA Abrams
M1A1 AIM Abrams
M1A2 SEP Abrams
M1 Grizzly Engineer Vehicle
M104 Wolverine Heavy Assault Bridge
M105 Abrams Recovery Vehicle

M60 Patton (combat tanks retired)

M60A1 Armored Vehicle Launched Bridge

M48A5 Patton (combat tanks retired)

M88A2 Hercules Recovery Vehicle

M8 Armoured Gun System
M551 Sheridan
Armoured Personnel Carriers
Edit
Bradley Fighting Vehicle
M113A4 series

M113A4 Armoured Personnel Carrier
M113A4 Reconnaissance Vehicle [6]
M163A4 Blazer Air Defence System
M1064A4 120mm Mortar Carrier
M1254A4 81mm Mortar Carrier
M727A4 SL-AMRAAM Launcher
M577A4 Command Post Carrier
M113A4 Engineer Support Vehicle
M113A4 Medical Evacuation Vehicle
M5774 Medical Treatment Vehicle
M113A4 CBRN Reconnaissance Vehicle
M806A4 Recovery Vehicle
M1108 Universal Load Carrier

Legacy M113 series

M113A3 Armoured Personnel Carrier
M163A3 Vulcan-Stinger Air Defence System [7]
M1064A3 120mm Mortar Carrier
M1254A3 81mm Mortar Carrier
M727A3 HAWK launcher
M730A3 Chaparral launcher
M901A3 Improved TOW Vehicle
M548A3 Tracked Carrier
M577A3 Command Post Carrier
M579A3 Fitters Vehicle
M981A3 FIST-V
M113A3 Ambulance
M577A3 Armoured Medical Treatment Vehicle
M1015A3 Tracked Electronic Warfare Carrier
M58A3 Wolf Smoke Generator
Light Combat Vehicles
Edit
M1117 Guardian
M1097 Avenger Air Defence System
M1099 HUMRAAM Air Defence System
Mine Resistant Ambush Protected Vehicles
Edit
Cougar H
Cougar HE
BAE Caiman
RG-31
Cheetah MMPV
RG-33
RG-33L
MaxxPro XL Mine Protected Vehicle (MPV)
Buffalo (mine protected vehicle)
Meerkat Mine Detection Vehicle (MDV)
Husky Metal Detecting and Marking Vehicle
Support/Engineering Vehicles
Edit
M9 Armored Combat Earthmover
M93 Fox CBRN reconnaissance vehicle
M578 Recovery Vehicle
M973 Small Unit Support Vehicle (SUSV)

M973A1 (Cargo) Small Unit Support Vehicle (SUSV)
M1065 (Command Control) Small Unit Support Vehicle (SUSV)
M1066 (Ambulance) Small Unit Support Vehicle (SUSV)
M1067 (Flatbed) Small Unit Support Vehicle (SUSV)
OPFOR vehicles
Edit
M551 NTC (National Training Centre)

M551 VISMOD AMX-30
M551 VISMOD Leclerc
M551 VISMOD Leopard 1
M551 VISMOD GCT
M551 VISMOD Gepard

M113A3 VISMOD AMX-10P
M113A3 VISMOD Marder
M113A3 VISMOD
M1025 HMMWV VISMOD
Technical (Toyota Tacoma pickup truck with Machine Gun)
Artillery
Edit
M224 60 mm mortar
M252 81 mm mortar
M120 120 mm mortar
M121 120 mm mortar
Guns/Howitzers
Edit
M40 (106mm Recoilless Rifle)
M101 (105mm Towed Howitzer)
M102 (105mm Towed Howitzer)
M119 (105mm Towed Howitzer)
M198 (155mm Towed Howitzer)
M777 (155mm Towed Howitzer)
M109 (155mm Self-Propelled Howitzer)

M109A5 (155mm Self-Propelled Howitzer)
M109A6 Paladin (155mm Self-Propelled Howitzer)
M992 Field Artillery Ammunition Support Vehicle (FAASV)
M992A2 Fire Direction Center Vehicle (FDCV)

M107 (175mm Self-Propelled Gun)
M110 (203mm Self-Propelled Howitzer)
Rockets/Missiles
Edit
M270 MLRS

M26 Rocket
M29 Rocket with Sense and Destroy Armor (SADARM)
M30 Guided MLRS (GMLRS)
M31 Guided MLRS (GMLRS)
MGM-140 ATACMS
MGM-164 ATACMS II
MGM-168 ATACMS Block IVA

M142 HIMARS High Mobility Artillery Rocket System

M26 Rocket
M29 Rocket with Sense and Destroy Armor (SADARM)
M30 Guided MLRS (GMLRS)
M31 Guided MLRS (GMLRS)
MGM-140 ATACMS
MGM-164 ATACMS II
MGM-168 ATACMS Block IVA

MGM-31C Pershing II
Anti-Tank Weapons
Edit
M40 (106mm Recoilless Rifle)
FGM-172 SRAW
FGM-148 Javelin
MGM-51 Shillelagh
BGM-71 TOW
Air Defence
Edit
M167 Vulcan Air Defense System (VADS) 20mm Air Defence Cannon
GAU-12 25mm cannon
FIM-92 Stinger
MIM-71 Chaprral
MIM-23 HAWK
AIM-120 SL-AMRAAM
MIM-104 Patriot

Patriot PAC (Patriot Advanced Capability 1)
Patriot PAC-2 (Patriot Advanced Capability 2)
Patriot PAC-3 (Patriot Advanced Capability 3)

THAAD (Terminal High Altitude Area Defense)
Scout/Utility Helicopters
Edit
OH-58 Kiowa

OH-58A Kiowa
OH-58C Kiowa
OH-58D Kiowa
OH-58D Kiowa Warrior

UH-90 Lakota [8]
MH-6 Little Bird
Attack Helicopters
Edit
AH-64 Apache

AH-64A Apache
AH-64D Apache
AH-64D Apache Longbow

AH-1 Cobra (National Guard)

AH-1P Cobra
AH-1S Cobra
AH-1E Cobra
AH-1F Cobra
Transport Helicopters
Edit
UH-1 Iroquois (Reserve/National Guard)

UH-1H Iroquois
UH-1V Iroquois

UH-60 Black Hawk

UH-60A Black Hawk
UH-60L Black Hawk
UH-60M Black Hawk
UH-60Q Black Hawk
HH-60L
MH-60A Black Hawk
MH-60K Black Hawk
MH-60L Direct Action Penetrator (DAP)
EH-60L Black Hawk

CH-47 Chinook

CH-47D Chinook
MH-47D Chinook
MH-47E Chinook
CH-47F Chinook
MH-47G Chinook
Fixed Wing Aircraft
Edit
OV-1D Mohawk
RV-1D Mohawk
RC-7B ARLM
UV-18 Twin Otter
UV-20 Turbo Porter
RC-12 Guardrail
RC-12 Aerial Common Sensor
MC-12W Liberty
C-31 Troopship (US Army Parachute Team)
C-23 Sherpa
C-12 Huron
C-20 Gulfstream
C-26 Metroliner
C-37 Gulfstream
Special Aircraft
Edit
Aerospatiale Puma (OPFOR)
A129 Mangusta (OPFOR)
Unmanned Aerial Vehicles
Edit
MQ-1C Grey Eagle
RQ-7 Shadow
RQ-11 Raven
Support Vehicles
Edit
HMMWV series

M56 Coyote Smoke Generator Carrier
M707 HMMWV
M966 HMMWV TOW Armored
M996 Mini-Ambulance, Armored
M997 Maxi-Ambulance, Armored
M998 Cargo/Troop
M998 HMMWV Avenger
M1025 Armament Carrier, Armored
M1026 Armament Carrier, Armored W/W
M1035 Soft-Top Ambulance
M1036 TOW Armored W/W
M1037 S-250 Shelter Carrier
M1038 Cargo/Troop Carrier W/W
M1042 S-250 Shelter Carrier W/W
M1043 Armament Carrier, Up-Armored
M1044 Armament Carrier, Up-Armored W/W
M1045 TOW Up-Armored Armor
M1046 TOW Up-Armored Armor W/W
M1069 Tractor for M119 105-mm Gun

Heavy HMMWV series

M1097 Heavy Cargo/Troop
M1123 Heavy HMMWV Cargo/Troop Carrier
M1109 Heavy Armament Carrier

HMMWV Expanded Capacity Vehicle

M1113 HMMWV Expanded Capacity Vehicle
M1114 HMMWV Up-Armored Armament Carrier
M1151 HMMWV Up-Armored Armament Carrier
M1123 Heavy
M1121 TOW Armored
M1145 Up-Armored HMMWV
M1152 Up-Armored Capable HMMWV

Family of Medium Tactical Vehicles (FMTV) series

M1078 standard cargo truck, 2.5 ton capacity
M1079 shop van configuration
M1081 standard cargo LVAD, 2.5 ton capacity, air-droppable
M1083 standard cargo truck, 5 ton payload
M1084 standard cargo truck, 5 ton payload, with materiel handling equipment
M1085 Long Wheel Base (LWB) truck (extended cargo bed to carry ISO Containers
M1086 Long Wheel Base (LWB) truck with materiel handling equipment
M1087 Expandable Van
M1088 tractor truck
M1089 wrecker
M1090 dump truck
XM1091 fuel/water tanker, 1500 gallons
M1093 Standard Cargo Truck, LVAD, 5 ton capacity, air-droppable
M1094 dump truck, LVAD, air-droppable

Heavy Expanded Mobility Tactical Truck (HEMTT) series

M977 cargo truck, 10 ton, with material handling equipment
M978 fuel truck, 2500 gallon
M983 tractor*
M984 wrecker
M985 cargo truck, 10 ton. with HD material handling equipment
M1120 HEMTT Load Handling System (LHS)
M1977 HEMTT Common Bridge Transporter (CBT)**

Palletized Load System (PLS)

M1074 PLS Truck with material handling equipment and 20K winch
M1075 PLS Truck w/o material handling equipment
M1076 PLS Trailer

Heavy Equipment Transport System (HETS)

M1070 Tractor
M1000 Heavy Equipment Transporter Semi-trailer

M1180 Rapidly Emplaced Bridge System (REBS) [9]
M3 Amphibious Bridge
Improved Ribbon Bridge
LARC-V
LARC-15
LARC-60
GKN Aquatrack
*Often used with the Patriot and Pershing II missiles. Also used by the US Air Force with the MGM-109 GLCM. **Usually found in Combat Engineering Brigades.
Aerial Weapon Systems
Edit
AGM-114 Hellfire
AIM-92 Stinger
Mk 40 FFAR
The US Army's ceremonial dress uniform is a new blue uniform which traces its origins to the US Army uniforms of the Civil War-era. the uniform previously served as the US Army's ceremonial dress uniform. The US Army has used a green service uniform since the 1950s.
The US Army's combat uniform is the M81 Battle Dress Uniform which comes in two versions, a Woodland version for temperate or jungle climates, and a desert version for desert climates. With both, a kepi or beret are the normal headdress in garrison.
Battle Dress Uniform
Rank Insignia
Edit
http://i277.photobucket.com/albums/kk56/Sheriff__001/USArmyOfficer.gif
Warrant Officers
Edit
http://i277.photobucket.com/albums/kk56/Sheriff__001/USArmyWarrantOfficer.png
Enlisted Men
Edit
http://i277.photobucket.com/albums/kk56/Sheriff__001/USArmyEnlisted.png
Flag of the United States Army