Royal Australian Navy

---


The White Ensign

---

Founded
16th Century
Country
United Kingdom
Branch
Navy
Part of
Her Majesty's Armed Forces
Naval Headquarters
MOD Main Building, Whitehall
Size
Over 200 ships
Commanders
First Sea Lord
Admiral Sir Mark Stanhope
Ship classes
Aircraft carriers
Queen Elizabeth II class, Invincible class
Cruisers
Crown Colony class, Town class
Destroyers
Type 45, Type 43, Type 42
Frigates
Type 23, Type 22
Attack Submarines
Astute class, Trafalgar class, Swiftsure class
Patrol Submarines
Upholder class
Ballistic Missile Submarines
Vanguard class
Patrol craft
River class
Amphibious ships
Ocean class, Albion class, Hermes class
Auxiliaries
Fort class, Wave class
Aircraft flown
Fighter/Ground Attack
Tomcat, Hornet, Harrier
ASW
Viking
AEW
Hawkeye, Sea King
ASW Helicopter
Lynx, Merlin, Sea King
Amphibious
Lynx, Sea King
The Royal Navy of the United Kingdom is the oldest of the British armed services (and is therefore known as the Senior Service). From the 18th century to the middle of the 20th century (250 years), it was the largest and most powerful navy in the world, playing a key part in establishing the British Empire as the dominant power of the 19th and early 20th centuries. In World War II, the Royal Navy operated almost 900 ships. During the Cold War, it was transformed into a primarily anti-submarine force, hunting for Soviet submarines, mostly active in the GIUK gap. After the Falklands War, the Royal Navy also oriented itself towards global expeditionary operations as well.
The Royal Navy is responsible for the strategic element of Britain's nuclear deterrent.
Organisation
Edit
The Royal Navy is controlled by the Admiralty Board which is a part of the Ministry of Defence. The Commander in Chief of the Royal Navy is the Lord High Admiral, Queen Elizabeth II. The Admiralty Board is one of the three service boards that form the Defence Council of the United Kingdom. The Admiralty Board usually consists of the Secretary of State for Defence and junior Ministers in the MOD, as well as the First Sea Lord, and other senior naval officers.
The First Sea Lord is the professional commander of the Royal Navy.
The Royal Navy is organised into six components:
Surface Fleet
Submarine Service
Fleet Air Arm
Royal Navy Police
Royal Naval Reserve
Royal Navy Medical Branch
Surface Fleet
Edit
The Surface Fleet is the name given to the collection of surface vessels (as opposed to submarines or aircraft) of the British Royal Navy. In 2008 it consisted of two flotillas based at Portsmouth and Devonport, both on the south coast of England and a flotilla based at the Clyde Naval Base at Faslane in Scotland.
The Surface Fleet consists of a wide variety of vessels, ranging from aircraft carriers to mine countermeasures vessels to offshore patrol vessels, but the backbone of the fleet consists of destroyers (type 42) and frigates (types 22 and 23).
Its roles emcompass all naval roles from air defence to amphibious operations. The Surface Fleet also provides training support to the Royal Air Force, Fleet Air Arm, and Submarine Service.
Submarine Service
Edit
The Royal Navy Submarine Service is the collective name given to the submarine element of the Royal Navy. It is sometimes known as the "Silent Service", on account of a submarine being required to operate quietly in order to remain undetected by enemy sonar. The service currently consists of nine Fleet submarines (SSNs), of the Swiftsure and Trafalgar class, and four ballistic missile submarines (SSBN), of the Vanguard class. It also operates the LR5 Submarine Rescue System.
All the Royal Navy's current submarines (with the exception of the LR5, which is strictly speaking a submersible rather than a submarine) are nuclear powered.
Fleet Air Arm
Edit
The Fleet Air Arm is the branch of the Royal Navy responsible for the operation of the aircraft on board their ships. The Fleet Air Arm operates the AgustaWestland Cormorant, Westland Sea King and Westland Lynx helicopters, as well as the Tomcat FRS.6, and Hornet FGR.3/T.4. Helicopters such as the Lynx and Westland Wasp have been deployed on smaller vessels since 1964, taking over the roles once performed by fragile biplanes such as the Fairey Swordfish.
The Fleet Air Arm is divided into four Forces:
Carrier Force

Fixed-wing combat aircraft, some helicopters

Maritime Helicopter Force

Most Lynx and Cormorant helicopters

Commando Helicopter Force
Training and Support Force

All training and support aircraft

Royal Navy Historic Flight
Black Cats (Royal Navy Helicopter Display Team)
Most flying training is done by the RAF.
In addition to its normal roles of land attack, air defence, maritime attack, amphibious operations, and anti-submarine warfare, the Fleet Air Arm provides training to the Surface Fleet in dealing with air attack, and cooperation with aviation assets.
The Royal Navy Police (RNP), or Royal Naval Police, formerly known as the Royal Navy Regulating Branch, is the military police branch of the Royal Navy. Its members are known as Regulators and enforce law, order and discipline both aboard ship and in shore establishments.
The Regulating Branch has its own Special Investigation Branch (SIB), which is employed investigating serious crimes. The trade badge for Regulators is a crown (worn in a wreath by Masters-at-Arms and Warrant Officer Masters-At-Arms). Non-police Officers attached to the Royal Navy Police wear a white armlet on the left wrist bearing a crown between the letters "NP" (Naval Patrol).
Royal Navy Police are not Constables.
The Royal Naval Reserve (RNR) is the volunteer reserve force of the Royal Navy (RN) in the United Kingdom. Their main sea-borne role is the operation of patrol craft and mine warfare craft.
Modern and effective medical support is a fundamental part of the United Kingdom's military capabilities. To that end the Royal Naval Medical Service's promotes and maintains the health, fitness and well being of Royal Naval Personnel which is vital to the Royal Navy's operational capability and effectiveness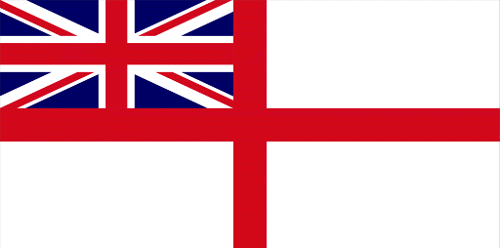 White Ensign, flown by all Royal Navy commissioned ships and shore establishment
Surface Fleet
Edit
Aircraft Carriers
Edit
2 Queen Elizabeth II class Aircraft Carriers [1]

HMS Queen Elizabeth II
HMS Ark Royal

3 Invincible class Aircraft Carriers

HMS invincible
HMS Illustrious
HMS Prince of Wales
4 Crown Colony class Nuclear Guided Missile Cruisers
6 Town class Guided Missile Cruisers
Destroyers
Edit
8 Type 45 Guided Missile Destroyers
4 Type 43 Guided Missile Destroyers
7 Type 42 Guided Missile Destroyers
25 Type 23 Frigates
14 Type 22 Frigates
Amphibious Forces
Edit
2 Ocean class Landing Platforms, Helicopter
4 Albion class Landing Platforms, Dock
4 Hermes class Landing Ships, Tank [2]
Mine Warfare Vessels
Edit
12 Sandown-class Mine Countermeasures Vessels
14 Hunt-class Mine Countermeasures Vessels
Patrol Vessels
Edit
1 Antarctic patrol ship (HMS Endurance)
12 River-class patrol vessels
5 Peacock class patrol vessels
20 Archer or P2000-class fast patrol boats
10 Scimitar-class fast patrol boats
2 Archer or P2000-class fast patrol boats (Gibraltar Squadron)
3 Archer or P2000-class fast patrol boats (Malta Squadron)
HMS Bristol (D23) - Type 82 destroyer - now used as a training ship, permanently docked in Portsmouth Harbour
HMS Caroline - C class cruiser - now used as a shore establishment, permanently docked in Belfast
HMS Victory - First-rate ship of the line - the flagship of the Second Sea Lord, permanently docked in Portsmouth Naval Base
HMY Victoria - Royal Yacht
Submarine Service
Edit
4 Vanguard class Ballistic Missile Submarines
3 Astute class Attack Submarines
9 Trafalgar class Attack Submarines
2 Swiftsure class Attack Submarine
10 Upholder class Patrol Submarines
Auxiliaries
Edit
Ocean Survey Vessels
Coastal Survey Vessels

HMS Roebuck (H130)
HMSML Gleaner (H86)

2 Echo class Multi-purpose Survey Vessels
Royal Fleet Auxiliary
Edit
6 Wave-class fast fleet tankers
4 Rover-class small fleet tankers
4 Leaf-class support tankers
4 Fort Rosalie or Fort (i) class replenishment ships
6 Fort Victoria or Fort (ii) class replenishment oilers
RFA Argus (A135) Aviation training/Primary Casualty Receiving Ship
RFA Diligence (A132) Fleet Repair Ship
6 Round Table-class Landing Ships Logistics
6 Bay-class Landing Ships Dock (Auxiliary)
8 Point class sealift ships
2 Nightingale-class Hospital Ships

Flag of the Royal Fleet Auxiliary
Fleet Air Arm
Edit
Tactical Aircraft
Edit
4 Squadrons of Grumman Tomcat FRS.2 (total 72 aircraft)
4 Squadrons of Boeing/BAe Hornet FGR.3/T.4 (total 72 aircraft)
3 Squadrons of BAe Sea Harrier FGR.2 (total 54 aircraft)
1 Squadron of BAe Harrier T.12 (total 18 aircraft)
1 Squadron of Lockheed Viking AS.4 (total 18 aircraft)
1 Squadron of Northrop Grumman Hawkeye AEW.3 (total 16 aircraft)
1 Squadron of Lockheed Viking (10 Viking COD.2, 8 Viking R.4)
Maritime Helicopters
Edit
3 Squadrons of AgustaWestland Cormorant HM.1 (total 54 aircraft)
3 Squadrons of Westland Sea King HAS.6 (total 30 aircraft)
1 Squadron of Westland Lynx HAS.3 (total 12 aircraft)
3 Squadrons of Westland Lynx HMA.8 (total 36 aircraft)
1 Squadron of Westland Sea King AEW.7 (total 20 aircraft)
Commando/Rescue Helicopters
Edit
3 Squadrons of Westland Sea King HC.4 (total 45 aircraft)
6 Westland Sea King HAS.6(CR) (attached to a Sea King HC.4 Squadron)
1 Squadron of Westland Sea King HAR.5 (total 6 aircraft)
1 Squadron of Westland Lynx AH.7 (total 6 aircraft in Royal Marines markings)
Trainers/Historical
Edit
1 Squadron of BAe Hawk T.1 (total 13 aircraft, Fleet Requirements and Aircraft Direction Unit)
1 Squadron of Handley Page Jetstream T.2 (total 14 aircraft)
Royal Navy Historic Flight

1 Fairey Swordfish GR.1
1 Fairey Swordfish GR.2
1 Fairey Swordfish GR.3
1 Fairey Firefly AS.5
2 Hawker Sea Fury FB.11
1 Hawker Sea Fury T.20
1 Hawker/Armstrong Whitworth Sea Hawk FGA.6
1 de Havilland Chipmunk T.10
The Singapore Division of the Royal Navy is the naval force of the Crown colony of Singapore. It is funded by the Singapore Government, but is under the command of British Forces Singapore. The Singapore Division of the Royal Navy is one of the best naval forces in South East Asia.
Surface Combatants
Edit
Submarines
Edit
4 Oberon class Patrol Submarines
2 Upholder class Submarines
Small Combatants
Edit
6 Victory class corvettes (Vosper-Thornycroft Mark 9 corvette)
12 Fearless class patrol vessels
4 Hunt-class Mine Countermeasures Vessels
Amphibious Craft
Edit
4 Endurance class tank landing ships
Singapore Division of the Fleet Air Arm
Edit
1 Squadron of Westland Lynx HMA.8
Surface to Air Missiles
Edit
Raytheon RIM-174 Standard ERAM
Raytheon RIM-161 Standard Missile 3
Raytheon RIM-156 SM-2ER Block IV
Raytheon RIM-66M SM-2MR Block III
BAe Sea Dart
Raytheon RIM-162 Evolved Sea Sparrow Missile
BAe Sea Wolf
Shorts Starburst (Single Shoulder Launcher, and LML in patrol craft, RFA, auxiliaries, mine warfare craft)
Shorts Javelin (Single Shoulder Launcher, and LML in patrol craft, RFA, auxiliaries, mine warfare craft)
Surface to Surface Missiles
Edit
Aerospatiale MM-38 Exocet
Boeing Harpoon
Raytheon RGM/UGM-109E Tomahawk Land Attack Missile (TLAM Block IV) cruise missile
Lockheed Martin UGM-133 Trident II
Surface to Sub-Surface Missiles
Edit
CAC Ikara
Lockheed Martin RUM-139 VL-ASROC
155mm (6.1 inch) Mark 9 Naval Gun
115mm (4.5 inch) Mark 8 Naval Gun
40mm Bofors Mark IX
30mm Goalkeeper CIWS
30mm Oerlikon GCM-AO
30mm LS-30B
20mm Phalanx CIWS
20mm Oerlikon GAM-BO1
20mm Oerlikon Mark II
20mm Mark 20 Rh 202
12.7mm L2A1 Heavy Machine Gun
7.62mm GAU-17 Minigun
7.62mm L44A1 General Purpose Machine Gun
7.62mm L7A2 General Purpose Machine Gun
Spearfish (Submarines)
Sting Ray (Surface ships, helicopters, fixed-wing aircraft, also used by RAF)
1000lb Mk13/20 Quickstrike mine (Fleet Air Arm, Royal Air Force)
Stonefish
Mark 60 CAPTOR
Rank Insignia
Edit
http://i277.photobucket.com/albums/kk56/Sheriff__001/RNOfficer.png
Admiral of the Fleet is the rank of a Navy Chief of the Defence Staff. It is also held by HRH The Duke of Edinburgh. First Sea Lords are promoted to Admiral of the Fleet on their last day.
Between (or below for Sub Lieutenants) coloured cloth is worn to show branch. Line officers do not wear the colour, but the colours for the other branches are as follows:
Engineering - Purple
Surgeons - Red
Pursers - White
Dentists - Orange
Instructors - Light Blue
Shipwrights - Silver Grey
Wardmaster (Medical assistants) - Maroon
Electrical - Dark Green
Ordnance - Dark Blue
http://i277.photobucket.com/albums/kk56/Sheriff__001/RNEnlisted.png
Ratings wear their rank badges on the left sleeve, and a rating badge on their right sleeve. Warrant Officers are extremely rare. The senior ratings on a ship tend to be Chief Petty Officers.
Ad blocker interference detected!
Wikia is a free-to-use site that makes money from advertising. We have a modified experience for viewers using ad blockers

Wikia is not accessible if you've made further modifications. Remove the custom ad blocker rule(s) and the page will load as expected.