Law enforcement in Germany is constitutionally solely vested in the states, which is one of the main features of the German political system. Therefore, unlike France, Italy, the United States, Canada or many other countries, Germany has no federal police force comparable to the Carabinieri, Police Nationale, FBI or RCMP. Police has always been a responsibility of the German states and was continued after 1871 when the country was unified. The constitution of the Weimar Republic 1919 eventually did provide for the possibility to create a national police force, should the necessity arise, but it was only in the Nazi era, that a national secret police force (Gestapo) was created and the state police forces were unified under a central leadership. The police became a tool of the centralized state and the Nazi party. Following the defeat of 1945, Germany was divided; in 1949 the three western zones were turned into the Federal Republic of Germany (West Germany), the eastern zone became the German Democratic Republic (East Germany). Each country pursued a different path concerning law enforcement.
In light of the gross misuse of power by the centralized Nazi state the new constitution of the West Germany provided for a strict separation of powers, placing law enforcement firmly into the hands of the states. The only policing allowed on the federal level was border control (Bundesgrenzschutz including coast guard), controlled by the Ministry of Interior and originally organized along paramilitary lines, the Federal Criminal Police Office and the Police of the parliament.
East Germany created a new centralized police force under the Ministry of Interior, the paramilitary Volkspolizei. It also established a border police, initially an independent force, then integrated into the army and then reorganized as an independent military organization.
Federal law enforcement agencies
Edit
Federal Office for the Protection of the Constitution
Edit
The Bundesamt für Verfassungsschutz (BfV, Federal Office for the Protection of the Constitution) is the Federal Republic of Germany's domestic intelligence agency. Its main function is the observation and surveillance of anti-constitutional activities in Germany. It is subordinate to the Federal Ministry of the Interior.
The main job of the Verfassungsschutz is to observe organizations that are considered a threat to the "free and democratic basic order" (Freiheitlich-demokratische Grundordnung) of the Federal Republic of Germany. While they do use all kinds of surveillance technology and infiltration, most of their information is assembled from publications of the observed organisations. The information is compiled into yearly reports (the Verfassungsschutzbericht) which are made available to the public; presumably there are more detailed, non-public reports given to the governments.
The organizations being currently observed by the Verfassungsschutz fall into the following groups:
Left-wing political extremists, platforms, movements and parties, notably certain factions within Die Linke, as well as other smaller parties and groups preaching communism
Right-wing political extremists (mainly Neo-Nazis, including the NPD, DVU political parties and smaller groups preaching Nazism, fascism, racism and xenophobia).
Extremist organisations of foreigners living in Germany (most prominently Islamist terrorists).
Scientology (considered by the German government an authoritarian, anti-democratic commercial organisation rather than a religion).
Organised crime is also mentioned as a threat to democracy, law and order, and free enterprise in the country's business economic system.
Some of the Verfassungsschutz organisations have been given additional tasks by specific laws, such as the protection of government-related classified information, the monitoring of foreign secret services, or the monitoring of organised crime.
Bundesgrenzschutz
Edit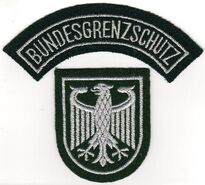 Shoulder patch of the German Federal Border Guard
By far the largest federal police force in Germany is the border guard, or Bundesgrenzschutz (Federal Border Guard). The Bundesgrenzschutz is a paramilitary police force.
For several years after World War II, Germany was not allowed to re-arm, so the Bundesgrenzschutz was initially created as kind of a Republican Guard, staffed with 10,000 men. Its main purpose was the control of the borders including the "inner German border" (border between East and West Germany and between the emerging cold war blocs)
The Bundesgrenzschutz carries out the following roles:
border security to include passport control and the provision of coast guard services along Germany's 700 km coasts.
protection of federal buildings and foreign embassies in the Federal capital, Berlin, and the Federal City, Bonn; they also protect the two highest German courts, both in Karlsruhe:

the Federal Constitutional Court of Germany (Bundesverfassungsgericht) and
the Federal Court of Justice of Germany (Bundesgerichtshof)

providing the federal government's mobile response force for internal security events,
providing transportation security at international airports and on the German railways
provides counter-terrorism forces (GSG 9).
provides air (or sky) marshals.
supports international police missions for the UN and EU in Kosovo, Sudan, Liberia, Afghanistan, The Gaza Strip, Moldova and Georgia.
document adviser for airlines around the world
provides in-house security for German embassies in several countries
The Bundesgrenzschutz can also reinforce the state police agencies. The BGS maintains these reserve forces to deal with major demonstrations, disturbances or emergencies to supplement the capabilities of the State Operational Support Units. Several highly trained detachments are available for crisis situations requiring armored cars, water cannon or other special equipment.
The BGS has investigators who conducts criminal investigations only within its jurisdiction; otherwise the cases are referred to the appropriate state police force or to the federal criminal investigative agency, the Federal Criminal Police (Bundeskriminalamt, BKA).
In addition, the Bundesgrenzschutz cooperates closely with German state executive authorities such as the Prosecutor's Offices called Staatsanwaltschaft in pursuing criminal investigations.
It is one of several civil organisations providing rescue helicopter service.
The BGS has approximately 30,000 police officers of whom 6,000 form the Bereitschaftspolizei (literally Alert Police, though it actually means Riot Police). 3,000 serve in special units such as GSG-9, the Central Office for Communications and Information, and the Aviation Wing.
GSG 9 (Grenzschutzgruppe 9 or Border Guard Group 9) is the elite counter-terrorist unit of the German Bundesgrenzschutz. During the 1972 Munich Summer Games, Palestinian terrorists took 11 Israeli athletes hostage. Without a specialised force, the Bavarian State Police were left to their own devices, and a disaster followed. 17 people were killed including all 11 Israelis, and one West German police officer.
As a consequence of this disaster, the West German government directed a senior Bundesgrenzschutz officer, Oberstleutnant Ulrich Wegener, to form a new force to ensure that a debacle like the Munich massacre would never happen again. The Bundesgrenzschutz had eight regular Border Guard Groups, so the new unit was called Grenzschutzgruppe 9 (GSG 9, Border Guard Group 9). The unit trained extensively both inside West Germany and with foreign units such as the British SAS.
In 1977, the group faced its first real test. A Lufthansa Boeing 737 (Flight 181 from Palma de Mallorca to Frankfurt carrying mostly German tourists returning home) was hijacked by Palestinian terrorists demanding the release of several German terrorists of the Baader-Meinhof Gang. Wegener led a GSG 9 team after the plane in a modified Lufthansa Boeing 707. After several landings, the terrorists brought the 737 down in Mogadishu, Somalia. Wegener with a GSG 9 unit and two British SAS troopers stormed the jet, freeing all the hostages and killing three of four terrorists. After news of the triumph reached Germany, the terrorists Andreas Baader, Gudrun Ensslin, and Jan-Carle Raspe, seeing no chance of ever being released, killed themselves. This operation cemented the reputation of GSG 9 as one of the world's finest counter-terrorist units.
GSG 9 is deployed in cases of hostage taking, kidnapping, terrorism and extortion. The group may also be used to secure locations, neutralize targets, track down fugitives and sometimes conduct sniper operations. Furthermore, the group is very active in developing and testing methods and tactics for these missions. Finally, the group may provide advice to the different Länder, ministries and international allies. The group assists the Bundespolizei and other federal and local agencies on request. At the time of the 1977 Mogadishu mission, the Commander of the Israeli Border Police Tzvi War described GSG 9 as "The best anti-terrorist group in the world."
From 1972 to 2003 they reportedly completed over 1,500 missions, discharging their weapons on only five occasions. At the SWAT World Challenge in 2005, GSG 9 won an impressive seven out of seven events, beating 17 other teams. GSG 9 defended its championship the following year, but placed fifth in 2007.
Bundesgrenzschutz Rank Badges
Edit
http://i277.photobucket.com/albums/kk56/Sheriff__001/Bundeswehr%20ranks/BGSOfficers.png
Enlisted Men
Edit
http://i277.photobucket.com/albums/kk56/Sheriff__001/Bundeswehr%20ranks/BGSEnlisted.png
German Federal Coast Guard
Edit
The German Federal Coast Guard (German: Küstenwache des Bundes) is a civilian law enforcement organisation whose primary missions are border protection, maritime environmental protection, shipping safety, fishery protection and customs enforcement. The Küstenwache is an association of several federal agencies, not a single entity like the United States Coast Guard.
The agencies that make up the Küstenwache have a common plan of action and direct their operations from two Coast Guard Centers (German: Küstenwachzentren), Neustadt (Holstein) for the Baltic Sea and Cuxhaven for the North Sea.
Units and personnel from these federal agencies make up the coast guard:
Bundesgrenzschutz (Federal Border Guard), Ministry of the Interior
Waterways and Shipping Offices, Federal Waterways and Shipping Administration (WSV), Federal Ministry for Transport, Construction and Urban Development
Wasserzoll (Maritime Customs Service), Federal Customs Administration, Federal Ministry of Finance
Federal Agency for Agriculture and Nutrition (BLE), Federal Ministry of Consumer Protection, Food, and Agriculture
Federal Criminal Police Office
Edit
The Federal Criminal Police Office of Germany (in German: Bundeskriminalamt or BKA) is a national investigative police agency in Germany and falls directly under the Federal Ministry of the Interior. As law enforcement in Germany is vested in the states, the BKA only becomes involved in cases of international organised crime or when requested by the respective federal state authorities or the federal minister of the interior. The federal prosecutor can also direct it to investigate cases of special public interest.
It has the following missions:
Coordinating cooperation between the federation and state police forces (especially state criminal investigation authorities) and with foreign investigative authorities.
Collecting and analyzing criminal intelligence, managing the INPOL database of all important crimes and criminals.
Investigating cases of terrorism or other areas of political motivated crime, as well as narcotics, weapons and financial/economical crime.
Protection of federal witnesses.
Acting as a clearing house for identifying and cataloging images and information on victims of child sexual exploitation, similar to the National Center for Missing & Exploited Children in the United States.
Representing all German police forces in Europol, the Schengen Information System, and Interpol
Police of the German Federal Diet
Edit
The Polizei beim Deutschen Bundestag (Polizei DBT, commonly known as Bundestagspolizei) is the smallest and least known of the federal police forces. It is responsible for the protection of the premises of the Bundestag in Berlin.
Feldjäger
Edit
The Feldjäger is Germany's combined military police force. It is part of the Streitkräftebasis (Joint Support Service, SKB). They have jurisdiction over all members of the Bundeswehr, civilian employees of the Bundeswehr, and anyone who enters a Bundeswehr site. Germans who evade conscription are considered to be members of the Bundeswehr, and are within the jurisdiction of the Feldjäger.
Customs Investigation Bureau
Edit
The German Customs Investigation Bureau in Cologne (Zollkriminalamt, ZKA) and its investigation offices are federal agencies that fall under the German Finance Ministry. The ZKA coordinates customs investigations nationwide in particular monitoring foreign trade, uncovering violations of EU market regulations, illegal technology exports, subsidy fraud in the agricultural sector, drug trafficking and money laundering.
State police forces
Edit
The Landespolizei are the state police forces. All state police forces are subordinate to the Land Minister of the Interior. The internal structures of these police forces differ somewhat (which makes generalizations subject to local variation), but usually immediately subordinate to the interior ministries are the regional police headquarters (called Präsidium in most states, Landespolizeidirektion in Baden-Württemberg). These direct operations over a wide area or in a big city and have administrative and supervisory functions. The Präsidium often has direct control of the force's specialist units such as highway patrols, mounted police detachments and canine units. Under the regional headquarters, there are several district police headquarters (Direktionen) serving communities of from 200,000 to 600,000 citizens. Subordinate to each Direktion, there are several local stations (Inspektion) or precincts (Revier) that are manned on a 24-hour basis, conduct day-to-day policing and serve as points of contact for local citizens. Below this level, the Polizeiposten is a small police office manned by one or two officers, normally only during office hours.
The State Police wear the state patch on the uniform sleeve and sometimes metal city badges are worn over the right breast pocket indicating which police department they work for. Police officers can be transferred anywhere within their state.
List of agencies
Edit
Baden-Württemberg Police
Bavarian State Police
Berlin Police
Brandenburg Police
Bremen Policen
Hamburg Police
Hesse State Police
Mecklenburg-Vorpommern Police
Lower Saxony Police
North Rhine-Westphalia Police
Rheinland-Pfalz State Police
Saarland Police
Saxony-Anhalt Police
Schleswig-Holstein Police
Thuringia Police
Organisation
Edit
State police forces are divided into the following operational sections:
Schutzpolizei ("Schupo") - the uniformed police officers who patrol the streets and respond to emergency calls etc.
Kriminalpolizei ("Kripo") - the plain clothes detective branch, responsible for investigations. For instance, if a car is broken into, the Schupo will respond, secure the car, notify the owner etc, and then hand the case over to Kripo for investigation.
Bereitschaftspolizei (BePo) - Uniformed units of the LaPo used when additional manpower is required, for example during political demonstrations.
Landeskriminalamt (LKA) - State Investigation Bureau is directly subordinate to the state Ministry of the Interior, supervises police operations aimed at preventing and investigating criminal offences, and coordinates investigations involving more than one Präsidium.
Wasserschutzpolizei (WSP) - The river police for patrolling rivers, lakes and harbours. For practical reasons the WSP of one state may be in charge for territory of another state (e.g., in Hamburg, the WSP is in charge for the Elbe River in the states of Mecklenburg-Vorpommern, Lower Saxony, Schleswig-Holstein and Hamburg.)
Spezialeinsatzkommando (SEK) - The SWAT teams of the German state police.
Autobahnpolizei - The highway patrol or motorway police in Germany.
German civilian police wear a standardised uniform. The uniform consists of a green tunic and trousers and a khaki shirt worn with a green tie. Green sweaters and jackets are available for cold or wet conditions. Head dress consists of a schirmmütze, beret, or kepi. Green overalls are sometimes worn as a working uniform. Protective and load carrying equipment is in the standard green colour. Fire-retardant overalls are worn by SEK and GSG-9 personnel. To prevent confusion with the Bundeswehr, use of flecktarn camouflage is minimised.
Arm patches and cap stars distinguish agencies. State police patches will generally consist of the word "POLIZEI" and the state crest. State Police forces used a common set of rank badges, while the BGS use their own rank structure (the insignia is identical to that of the 1919-1933 Reichswehr and the NS-era Wehrmacht).
The Feldjäger wear standard Bundeswehr uniforms. The choice of Heer, Marine, or Luftwaffe is determined by the unit an individual Feldjäger man polices.
German police agencies generally use German-made cars. Mercedes-Benz, Volkswagen, Audi, Opel and BMW are the most popular brands, and police forces will often stick to manufacturers based near them. For example, the Bavarian State Police will tend to use cars made by BMW and Audi (both of which are based in Bavaria). The Federal Government, and most states lease vehicles from the manufacturer. In the eastern states, Volkswagen is more popular. The state of Hesse tends to use Opel vehicles (Opel is based in Hesse). Baden-Württemberg mostly uses Mercedes-Benz and Volkswagen brand cars for their police force. Saarland is the odd-one-out, using some French cars as well as vehicles made by Ford Europe.
German police vehicles all carry a common colour scheme of green and white or green and silver. Green and silver is becoming more common due to the greater resale value of silver cars. The word "POLIZEI" is displayed in large lettering on state police vehicles. Bundesgrenzschutz vehicles are generally dark green all over.
Motorcycles are generally made by BMW, though some agencies use less expensive Japanese motorcycles. These are particularly popular with Autobahnpolizei, who find the high acceleration of these motorcycles useful.
For off-road work, the Mercedes-Benz G-class is almost universal. Being the standard light vehicle of the Bundeswehr, it is used by the Feldjäger away from garrison. The G-class is highly popular with rural stations, and an armoured version is also available. Land Rovers and Russian Lada four-wheel drive vehicles are also used. The latter tend to be found in the east.
Armoured vehicles used by the German police include the Thyssen TM-170 Sonderwagen 4, and the ATF Dingo. These tend to be used by the Bereitschaftspolizei (Riot Police). Until recently, some Eastern states used the Schützenpanzerwagen SPW-40P2 (BRDM-2) inherited from the Volkspolizei (the police of the former GDR).
Commercial and military trucks are used by some police forces for special purposes. The Bundesgrenzschutz also use them for logistics. Generally German brands are used, but some Italian, Swedish and Japanese brands have come into use. Unimogs are popular with German police forces.
German police use several types of aircraft to support police on the ground. Most police agencies use them in traditional roles such as traffic control, searches, observation, and high speed pursuits. The Bundesgrenzschutz use them as transports too. Like German police cars, German police aircraft are generally painted green and white. Bundesgrenzschutz have a dark green overall paint scheme.

Aircraft



Origin



Role



Comments


MBB Bo 105
Germany
Police helicopter
Being replaced by the EC-135
Eurocopter EC-135
European Union
Police helicopter
Now becoming the standard state police helicopter
MD Helicopters MD Explorer
United States
Police helicopter
Used by the Baden-Württemberg State Police and Lower Saxony State Police
MBB/Kawasaki BK-117
Germany
Japan
Police/rescue helicopter
Eurocopter EC-145
Germany
Japan
Police/ambulance helicopter
Developed from BK-117
Eurocopter EC-120
European Union
Training helicopter
Used by the Bundesgrenzschutz only
Bell 212
United States
Rescue/transport helicopter
Used by the Bundesgrenzschutz only
Eurocopter Dauphin
France
Transport helicopter
Used by the Bundesgrenzschutz only
Eurocopter EC 155
European Union
Transport helicopter
Eurocopter Super Puma
France
Transport helicopter
Used by the Bundesgrenzschutz only
Watercraft
Edit
All German police forces operate small watercraft for a variety of police missions. They preserve safety on the waterways, prevent crime, and provide a rescue service. They assist the Kriminalpolizei with obtain evidence in water (for instance, if a murderer throws his weapon into a river, the Wasserschutzpolizei will collect it and hand it over to the Kriminalpolizei).
Of course the most prominent watercraft in German police use are the patrol craft of the Küstenwache des Bundes.
Water craft of the Küstenwache des Bundes
Edit
3 Bredstedt class Patrol Boats
3 Bad Bramstedt class Patrol Boats
All German police are routinely armed, unlike their British colleagues. German police weapons are generally of German manufacture, but some weapons of Swiss, Belgian, and Austrian manufacture are used.
All German police carry pistols on duty, and are permitted to carry them off duty (providing they refrain from carrying firearms while consuming or under the influence of alcohol). Unlike American police, German police have always carried semi-automatic pistols. Until the mid-1970s, German police have tended to use small caliber (7.65mm Browning) pistols such as the Walther PP. Today, modern 9mm Parabellum pistols are used.
The MP5 is almost universal as a German police submachine gun. In its semi-automatic MP5-SF version, it is also used as an urban carbine.
German police use rifles made by Heckler & Koch, SIG of Switzerland and Steyr of Austria. The Heckler & Koch HK416 and HK417 are currently not being considered by any German police force due to the newness of the HK G36, Steyr AUG, and SIG G37.
No expense is spared in the provision of sniper rifles for German police. Police forces feel that it is worth spending extra to get the best for extra reliability, and a reduced chance of hitting bystanders.
Grenade launchers are used by German police to suppress riots. Rubber baton rounds and GS gas grenades are used by the Bereitschaftspolizei to quell public disorder. More special weapons are used by GSG-9 reflecting its counter-terrorist mission.
In addition to firearms, German police carry incapacitant sprays. CS and OC are the main agents used. The other non-lethal weapon is the baton, which is either fixed or extendable. Extendable batons are becoming more popular.
The weapons mentioned below are used by German civilian police forces, yet many (such as the G36 rifle) are used by the military Feldjäger. The Feldjäger use standard Bundeswehr weapons.
Heckler & Koch P7 9mm Parabellum Pistol
Heckler & Koch P8 9mm Parabellum Pistol
Heckler & Koch P10 (USP Compact) 9mm Parabellum Pistol
Heckler & Koch P12 (USP Tactical) 11.43mm Pistol
Heckler & Koch P2000 9mm Parabellum Pistol
Heckler & Koch P30 9mm Parabellum Pistol
/ SIG-Sauer P6 (P225) 9mm Parabellum Pistol
/ SIG-Sauer P226 9mm Parabellum Pistol
Walther P5 9mm Parabellum Pistol
Walther P99 9mm Parabellum Pistol
Glock 17 9mm Parabellum Pistol
Submachine Guns
Edit
FN P90 TR 5.7mm Submachine Gun
Heckler & Koch MP5 9mm Submachine Gun

Heckler & Koch MP5SD 9mm Suppressed Submachine Gun
Heckler & Koch MP5K 9mm Machine Pistol

Heckler & Koch MP7 4.6mm Submachine Gun
Walther MP3 (MPL) 9mm Submachine Gun

Walther MP4 (MPK) 9mm Submachine Gun
Heckler & Koch G3 7.62mm Battle Rifle

Heckler & Koch G8 (HK81) 7.62mm Police Rifle
Heckler & Koch G3KA4 7.62mm Carbine
Heckler & Koch G3SG/1 7.62mm Sniper Rifle
Heckler & Koch PSG1 7.62mm Sniper Rifle

Heckler & Koch HK33 5.56mm Assault Rifle

Heckler & Koch HK33SG/1 5.56mm Sniper Rifle
Heckler & Koch HK53 5.56mm Carbine

Heckler & Koch G36 5.56mm Assault Rifle

Heckler & Koch G36K 5.56mm Carbine
Heckler & Koch G36C 5.56mm Carbine

Steyr AUG A3 5.56mm Assault Rifle
SIG G37 (SG550) 5.56mm Assault Rifle

SIG G37K (SG551) 5.56mm Carbine
SIG G37C (SG552) 5.56mm Carbine
Sniper Rifles
Edit
AMP Technical Services DSR-1 7.62mm Sniper Rifle
Heckler & Koch SL9SD 7.62x37mm Suppressed Sniper Rifle
Accuracy International G22 (AWM) 7.62 x 66.5mm Sniper Rifle
Steyr G5 (SSG 69) 7.62mm Sniper Rifle
Blaser 93 Tactical 7.62 x 66.5mm Sniper Rifle
PGM Hecate II 12.7mm Sniper Rifle
Accuracy International G24 (AW50) 12.7mm Sniper Rifle
Support Weapons
Edit
MBB Armbrust anti-armour weapon
Heckler Koch MZP-1 40mm Grenade Launcher
Heckler & Koch HK512 12 gauge Shotgun
Remington 870 12 gauge Shotgun
Benelli M1 Super 90 12 gauge Shotgun
Benelli M3 Super 90 12 gauge Shotgun
Benelli M4 Super 90 12 gauge Shotgun
Franchi SPAS-12 12 gauge Shotgun
Ad blocker interference detected!
Wikia is a free-to-use site that makes money from advertising. We have a modified experience for viewers using ad blockers

Wikia is not accessible if you've made further modifications. Remove the custom ad blocker rule(s) and the page will load as expected.