The armed forces of the United Kingdom, commonly known as the British Armed Forces or Her Majesty's Armed Forces, and sometimes legally the Armed Forces of the Crown, encompasses a navy, an army, and an air force.
The United Kingdom has the second highest level of military spending in the world. Their Commander-in-Chief is the British monarch, HM Queen Elizabeth II and they are managed by the Defence Council of the Ministry of Defence. Consistent with longstanding constitutional convention, however, the Prime Minister holds de facto authority over the armed forces. Day to day management of the armed forces is the responsibility of the Secretary of State for Defence, Dr Liam Fox, MP.
The British Armed Forces consists of the following services:
Apart from these Armed Forces, the Ministry of Defence maintains several civilian agencies including:
Ministry of Defence
Royal Fleet Auxiliary
Royal Maritime Auxiliary Service
Ministry of Defence Police and Guarding Agency

Ministry of Defence Police
Ministry of Defence Guard Service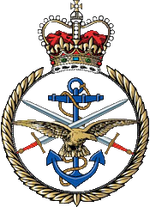 The tri-service badge
The British Armed Forces are regarded as extremely strong. In terms of gross tonnage, the Royal Navy is the second largest navy in the world, and still has global reach. The RAF is the largest air force in Europe (excepting Russia). The British Army, while smaller than the German and French Armies possesses first grade equipment, and the best trained troops in the world.
Command Structure
Edit
The Commander-in-Chief of the British Armed Forces is Queen Elizabeth II. Long-standing constitutional convention however places real authority in the hands of the Prime Minster, and the Cabinet (particularly the Secretary of State for Defence). The Ministry of Defence is the Government department and highest level of military headquarters charged with formulating and executing defence policy for the Armed Forces. The department is controlled by the Secretary of State for Defence and contains three deputy appointments: Minister of State for the Armed Forces, Minister for Defence Procurement, and Minister for Veterans' Affairs. Other Government Departments important to Defence are HM Treasury, the Foreign and Commonwealth Office, and the Home Office.
Responsibility for the management of the forces is delegated to a number of committees: the Defence Council, Chiefs of Staff Committee, Defence Management Board, and three single-service boards. The Defence Council, composed of senior representatives of the services and the Ministry of Defence, provides the "formal legal basis for the conduct of defence". The three constituent single-service committees (Admiralty Board, Army Board, and Air Force Board) are chaired by the Secretary of State for Defence.
The Chief of the Defence Staff is the professional head of the Armed Forces and is an appointment that can be held by an Admiral of the Fleet, Marshal of the RAF, or Field Marshal. The CDS, along with the Permanent Under Secretary, are the principal advisers to the departmental minister. The three services have their own respective professional chiefs: the First Sea Lord, the Chief of the General Staff and the Chief of the Air Staff.
The UK defence budget for the financial year 2009-10 was £55.8 billion.
Joint-Service Flag of the British Armed Forces
Crown colonies
Edit
The United Kingdom governs several Crown colonies, many of which are prominent in a military sense.
British Forces Aden

British Ground Forces Aden

Aden Brigade (British Light Brigade)
Aden Protectorate Levies (four locally-recruited Light Infantry Battalions, with light armour and artillery)

Royal Navy

1 Frigate (rotational deployment)
Support craft

RAF Khormaksar

3 BAe Nimrod MR.2 (rotational detachment)
1 Squadron of BAe Harrier GR.7/9
4 Lockheed Hercules (rotational detachment)
5 Boeing Chinook HC.2/HC.2A/HC.3 (rotational detachment)
4 Squadrons of Westland Blackhawk AH.1
8 Britten-Norman Defender AL.1
4 Westland Sea King HAR.3
Ascension Island
Edit
RAF Ascension Island - an important air and naval staging post in the mid-Atlantic.
Defence of Bermuda is mostly the responsibility of the (national) British Government, though the Bermuda Regiment is maintained as a local militia. The Regiment is locally funded, uses different equipment (Ruger Mini-14 20GB rifles as opposed to the SA80), and is the only British Army unit that is conscripted.
British Indian Ocean Territory
Edit
Diego Garcia - an important air and naval staging post in the Indian Ocean
Falkland Islands
Edit
British Forces Falkland Islands

Falkland Islands Defence Force - locally recruited part-time volunteer unit (funded by the Falkland Islands Government)
Mare Harbour, Royal Navy anchorage.

HMS Clyde (permanently stationed in the Falkland Islands)
HMS Endurance (operates in the region supporting British Antarctic operation)

British Army Garrison, Mount Pleasant

Reinforced Light Infantry Company
33 Engineer Regiment (EOD)
Joint Communications Unit
Semi-regular Special Forces detachment

RAF Mount Pleasant

No. 1435 Flight - 4 Grumman Tomcat FR.4
No. 1312 Flight - 2 Vickers VC10 C.1K/2 Lockheed Hercules C.3
No. 1564 Flight - 3 Westland Sea King HAR.3/5 Westland Blackhawk AH.1
RAF Regiment Field Flight
RAF Regiment Ground Based Air Defence Flight

Joint Rapid Reaction Force - Elements of all UK armed forces maintained in the UK, and elsewhere to respond to Argentine aggression
Naval Party 8901, Port Stanley - 1 platoon of Royal Marines
Gibraltar
Edit
Gibraltar is a British Overseas Territory on the southern tip of Spain, the main feature of which is the Rock of Gibraltar. The Territory is claimed by Spain.
British Forces Gibraltar

HQ, British Forces Gibraltar
Royal Gibraltar Regiment - home defence unit
Joint Provost and Security Unit
Gibraltar Squadron - Royal Navy, 2 Scimitar class patrol boats, 3 RHIBs
RAF Gibraltar - no resident units
Gibraltar Services Police - civilian police force, guards MoD establishments in Gibraltar
Hong Kong
Edit
British Forces Overseas Hong Kong

Ground

1 Light Infantry Battalion
1 Light Artillery Battery
Royal Hong Kong Regiment

Air

RAF Kai Tak (transport helicopter flight)
RAF Sek Kong (transport helicopter flight)

Naval

5 Peacock class patrol vessels
6 Archer class patrol boats
4 Hunt-class Mine Countermeasures Vessels
British Forces Malta

Ground

Royal Malta Regiment (1 Light Infantry Battalion)
1 Light Infantry Company
1 Mixed Artillery Regiment (1 Close Support Battery, 1 Air Defence Battery)

Air

3 Britten-Norman Defender AL.1
6 Westland Blackhawk AH.1
3 Westland Sea King HAR.3

Naval

1 River class patrol vessel
3 Archer or P2000-class fast patrol boats
4 Scimitar class patrol boats
Singapore
Edit
The defence of Singapore is largely the responsibility of the Singapore Defence Force.
British Forces Singapore

Royal Air Force

1 Squadron of Grumman Tomcat FR.4
RAF Tengah
RAF Changi
RAF Sembawang

Royal Navy

Brani Naval Base
Changi Naval Base
Tuas Naval Base
Permanent Operational Overseas Deployments
Edit
N.B. This list excludes purely training establishments. The UK Armed Forces maintains training establishments outside the UK to enable British forces to train in a more diverse range of environments.
British Military Garrison Brunei

1 Battalion of Light Infantry
British Forces Belize

1 Battalion of Light Infantry
1 Squadron of Bell 212 AH.1
1 Squadron of Westland Blackhawk AH.1
1 Squadron of BAe Harrier GR.9
Tri-Service Units
Edit
United Kingdom Special Forces
Edit
The United Kingdom Special Forces (UKSF) is a UK Ministry of Defence Directorate which also has the capability to provide a Joint Special Operations Task Force Headquarters. UKSF is commanded by Director Special Forces (DSF), a Major General. It consists of the following units:
British Army
Edit
22 Special Air Service
21 Special Air Service (Reserve)
23 Special Air Service (Reserve)
Special Reconnaissance Regiment
Royal Marines
Edit
Special Boat Service

Special Boat Service (Reserve)
Support Units
Edit
Special Forces Support Group
Edit
1st Battalion Parachute Regiment
F Company, Royal Marines
RAF Regiment elements
18 (UKSF) Signal Regiment

264 (SAS) Signals Squadron, attached to 22 SAS
267 (SRR) Signals Squadron, attached to the Special Reconnaissance Regiment (SRR)
268 (UKSF) Signals Squadron, specialist sp to UKSF
SBS Signals Squadron, attached to the Special Boat Service
63 (SAS) Signal Squadron, reserve unit attached to 21 and 23 SAS
8 Flight Army Air Corps

Agusta A109 AH.1, Westland Gazelle AH.1, Aerospatiale Dauphin AH.1

47 Squadron, RAF

Lockheed Martin Hercules C.6

Joint Special Forces Aviation Wing (JSFAW)

7 Squadron, RAF
651 Squadron, Army Air Corps

Britten-Norman Defender AL.1

657 Squadron, Army Air Corps
Defence Procurement
Edit
Defence procurement policy has tended to shift with changes in government. Contemporary Conservative Governments tend to buy American or French. This tendency was especially strong with the Powell, Thatcher, and Marshall, while Labour governments have preferred to develop British equipment. Current policy emphasises Military Off The Shelf technology.
Ad blocker interference detected!
Wikia is a free-to-use site that makes money from advertising. We have a modified experience for viewers using ad blockers

Wikia is not accessible if you've made further modifications. Remove the custom ad blocker rule(s) and the page will load as expected.