The A-4AL Fightinghawk is used by both the Navy, and Air Force. The Fightinghawk is an upgraded A-4M Skyhawk originally manufactured by McDonnell Douglas. The Fightinghawk upgrade was a joint project of Lockheed Martin and FMA. In the Air Force, the Fightinghawk serves as a ground attack aircraft, while the Navy use it as a fighter, with the secondary roles of ground attack and maritime strike.
The ECAL Armed Forces acquired their first Skyhawks in 1965, with the Air Force operating the A-4P in the ground attack role, and the Navy operating the A-4Q as sole combat aircraft. Arms embargoes enforced by the United States as well as a bad economic situation prevented resupply of the Skyhawks with the result (in the Air Force) of a much reduced capability. The Navy turned to the Super Etendard, although the Mitterand government stopped full deliveries.
After the return of democracy, and the repair of the civil-military relationship, the way to rearmament was opened. While some countries were hesitant to sell such items as armoured vehicles (which could be used against demonstrators), jet aircraft were not useful for internal suppression. The Air Force examined the Brazilian-Italian AMX, but it was found to be too expensive. In addition, there was no Latin American industry participation, and the absence of a Naval version meant that it was only a half solution.
In 1994, the United States made an offer. It would supply two hundred and eighty refurbished A-4M and TA-4M Skyhawks to the Government of the Confederate States of Latin America in a two billion dollar deal that would involve an almost total upgrade of the A-4M/TA-4M Skyhawks to be carried out by Lockheed Martin and FMA. It was the most ambitious project undertaken by FMA, and gave good experience for the F-90 Halcon program.
The Fightinghawk is one of the most sophisticated military aircraft in Latin America. In terms of American naval aircraft, its only real rivals are from the United States.
Technical Information
Edit
The A-4AL Fightinghawks were sourced from the AMARC in Arizona. Upgrade plans included:
Complete overhaul of the airframe, and the wiring looms
Installation of a non-afterburning General Electric F404-GE-100D turbofan engine
Installation of Douglas Escapac 1-G3 ejection seats
HGU-55/P helmets
Honeywell Normal Air-Garrett's OBOGS (On Board Oxygen Generation System)
Westinghouse/Northrop Grumman AN/APG-66V2 (ARG-1) radar
HOTAS controls and a 'glass' cockpit (2 CRT color screens)
Sextant Avionique/Thales Avionics SHUD
Litton/Northrop Grumman LN-100G inertial navigation system
MIL-STD-1553B data bus
Two General Dynamics Information Systems AN/AYK-14 mission computers
Northrop Grumman AN/ALR-93 (V)1 Radar warning receiver
AN/ALQ-126B jammer
ALR-47 chaff/flare dispenser
IFF AN/APX-72
Several extra airframes were acquired for spare parts, and test flying.
Specifications
Edit
General characteristics
Edit
Crew: 1 (2 in TA-4AL)
Length: 40 ft 3 in (12.30 m)
Wingspan: 27 ft 6 in (8.38 m)
Height: 14 ft 11 in (4.57 m)
Wing area: 259 ft2 (24.15 m2)
Empty weight: 4,900 kg (10,803 lbs)
Loaded weight: 11,000 kg (24,251 lbs)
Max takeoff weight: 24,500 lb (11,136 kg)
Powerplant: 1 x General Electric F404-GE-100D turbofan, 10,800 lbf (48.4 kN)
Performance
Edit
Maximum speed: 1128 km/h (609 kts, 701 mph)
Range: 1,700 nm (2,000 mi, 3,220 km ferry range with 3 drop tanks)
Service ceiling: 42,250 ft (12,880 m)
Rate of climb: 8,440 ft/min (43 m/s)
Wing loading: 70.7 lb/ft2 (344.4 kg/m2)
Thrust/weight: 0.55
Guns: 2 x 20 mm (0.787 in) Colt Mk 12 cannon, 100 rounds/gun
Air to Air Missiles: Rafael Python, Rafael Derby, AGM-65 Maverick, AM.39 Exocet, Popeye Lite, SNEB rockets,
Bombs: 9,900 lb (4,490 kg) on five external hardpoints
http://i277.photobucket.com/albums/kk56/Sheriff__001/06.jpg
http://i277.photobucket.com/albums/kk56/Sheriff__001/ladificilzm.jpg
Cockpit


General arrangement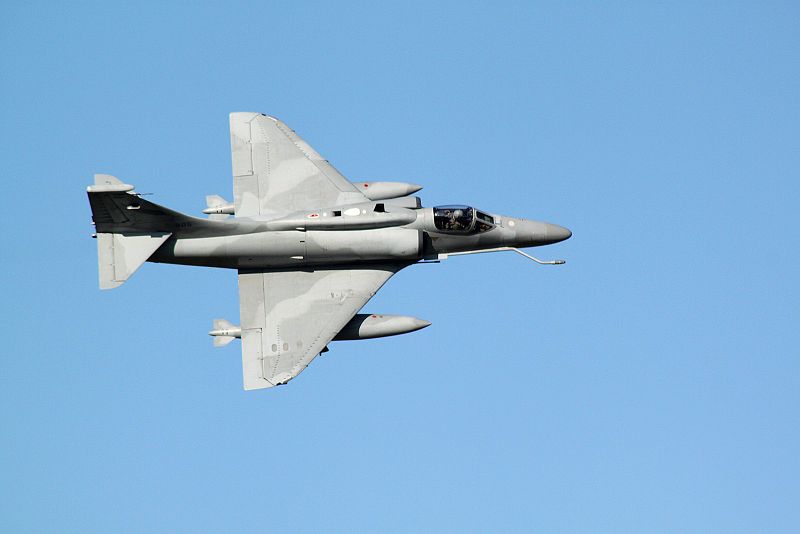 Confederate States of Latin America
General: Confederate States of Latin America, Economy of the ECAL, Justice and Law in the ECAL, President Michelle Bachelet, Presidency
Political: Partido Republicano Constitucional, Partido Laborista Socialista, Partido de la Democracia Cristiana
Military: Fuerzas Armadas, Armada, Ejercito, Fuerza Aerea, Infanteria de Marina, Guardia Nacional
Military Aircraft: FMA SAIAL 90, A-4AL Fightinghawk
Armoured Vehicles: TLAM Medium Tank, TLAP Main Battle Tank
Warships: Ship Profiles, Ardiente and Valeroso class destoyers
Ad blocker interference detected!
Wikia is a free-to-use site that makes money from advertising. We have a modified experience for viewers using ad blockers

Wikia is not accessible if you've made further modifications. Remove the custom ad blocker rule(s) and the page will load as expected.